The Wisdom of Leonardo da Vinci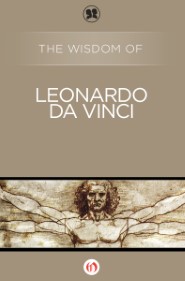 Philosophical Library/Open Road
, 2010
An intriguing look inside the mind of the Renaissance genius
Leonardo da Vinci stood on a bridge between medieval thought and the modern mind. In this selection of entries from his dozens of coded notebooks and unpublished manuscripts, his unending curiosity in the universe and deep knowledge come through in his energetic style. The self-educated da Vinci developed a philosophical system that set him apart from his contemporaries and marked him as the oracle of a new age, and his vivid imagination and straightforward writing style capture the reader's attention whether he is writing about his scientific analysis, his opinion of necromancy, discoveries in nature, or the nature of man. Accompanied by a thorough introduction, The Wisdom of Leonardo da Vinci unveils the man's deepest thoughts and musings and proves why he remains an intriguing and enduring figure.
Praise for The Wisdom of Leonardo da Vinci
"Acquire something during your youth to provide for your losses in old age. If you intend for your old age to feed on wisdom, so act during your youth that you may not lack food during your old age. The painter must be solitary and consider what he sees. He must converse with himself. He must select the quintessence of whatever he sees. He must act as a mirror that changes into as many colors as there are things placed before it; if he does this, he will be as a second Nature." —Leonardo da Vinci
Product Details
Title : The Wisdom of Leonardo da Vinci
Publisher: Philosophical Library/Open Road
Publication Date: 2010
ISBN: 9781453202517
About the Author
Leonardo da Vinci (1452–1519) was a renowned and influential painter, sculptor, and engineer. He was one of the most profound and inquisitive thinkers of all time. Born in Florence as the illegitimate son of a notary and a peasant, da Vinci studied in Milan before moving to Rome, Bologna, and Venice to work. His most famous paintings include the Mona Lisa and The Last Supper.
Reviews
What other people are saying about The Wisdom of Leonardo da Vinci.