William Styron: A Life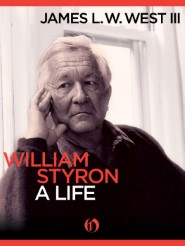 A compelling and authoritative portrait of an American literary master
William Styron was one of the most highly regarded and controversial authors of his generation. In this illuminating biography, James L. W. West III draws upon letters, papers, and manuscripts as well as interviews with Styron's friends and family to recount in rich detail the experiences that shaped each of his groundbreaking books. From Styron's Southern upbringing, which deeply influenced the Pulitzer Prize–winning The Confessions of Nat Turner and National Book Award–winning Sophie's Choice, to his feud with Norman Mailer and the clinical depression that led to his acclaimed memoir Darkness Visible, West's remarkable biography provides invaluable insight into the life and works of a giant of American literature.
Praise for William Styron
"Mesmerizing." —Entertainment Weekly
"Unflinching." —The New York Times
"Superbly written." —Fred Hobson, author of Mencken: A Life
Product Details
Title : William Styron: A Life
Author: West, James L. W.
Publisher: Open Road Media
Publication Date: 2010
ISBN: 9781453202869
About the Author
James L. W. West III, a native of Virginia, is Sparks Professor of English at Pennsylvania State University. West is a book historian, scholarly editor, and biographer.  He has written books on F. Scott Fitzgerald and on the history of professional authorship in America and has held fellowships from the J. S. Guggenheim Foundation, the National Humanities Center, and the National Endowment for the Humanities.  West has had Fulbright appointments in England (at Cambridge University) and in Belgium (at the Université de Liège). He is the general editor of The Cambridge Edition of the Works of F. Scott Fitzgerald and is at work on a volume of essays.
Reviews
What other people are saying about William Styron: A Life.