George Mills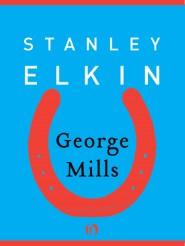 Elkin's National Book Critics Circle Award–winning classic: A compelling novel of one man's journey to break free from a thousand-year-old family curse
Since the time of the First Crusade, every generation of the Mills family has been consigned by fate to an unfulfilling, servile existence. And each successive Mills has had a son, George, to perpetuate the family plight through history. Whether a stable hand in feudal Europe or a prisoner in an Ottoman harem, each George Mills falls prey to his hereditary misfortune—until the modern George Mills threatens to reverse this fate once and for all.
Written with penetrating insight and wit, George Mills is an engrossing story of one man's salvation, and an unforgettable defense of free will in even the most overwhelming of circumstances.
This ebook features rare photos and never-before-seen documents from the author's estate and from the Stanley Elkin archives at Washington University in St. Louis.
Praise for George Mills
"Elkin's books are magical riffs of irreverent wisdom." —The Washington Post
"Brilliance lit up by comic genius." —St. Louis Post-Dispatch
"Stanley Elkin's imagination should be declared a national landmark." —Paul Auster
Product Details
Title : George Mills
Author: Elkin, Stanley
Publisher: Open Road Media
Publication Date: 2010
ISBN: 9781453204184
About the Author
Stanley Elkin (1930–1995) was an award-winning author of novels, short stories, and essays. Born in the Bronx, Elkin received his BA and PhD from the University of Illinois and in 1960 became a professor of English at Washington University in St. Louis where he taught until his death. His critically acclaimed works include the National Book Critics Circle Award–winners George Mills (1982) and Mrs. Ted Bliss (1995), as well as the National Book Award finalists The Dick Gibson Show (1972), Searches and Seizures (1974), and The MacGuffin (1991). His book of novellas, Van Gogh's Room at Arles, was a finalist for the PEN Faulkner Award.
Reviews
What other people are saying about George Mills.