Raquela: A Woman of Israel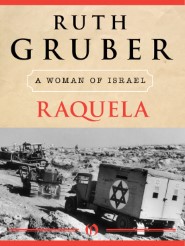 A National Jewish Book Award–winning biography: A look at the early years of Israel's statehood, experienced through the life of a pioneering nurse.
During her extraordinary career, nurse Raquela Prywes was a witness to history. She delivered babies in a Holocaust refugee camp and on the Israeli frontier. She crossed minefields to aid injured soldiers in the 1948 Arab-Israeli War and organized hospitals to save the lives of those fighting the 1967 Six-Day War. Along the way, her own life was a series of triumphs and tragedies mirroring those of the newly formed Jewish state.
Raquela is a moving tribute to a remarkable woman, and an unforgettable chronicle of the birth of Israel through the eyes of those who lived it.
Praise for Raquela
"Ruth Gruber is an adventure in herself." —New York Herald Tribune
"You couldn't invent Ruth Gruber . . . not even in a movie." —Richard Holbrooke, Special Envoy to Afghanistan and Pakistan
Product Details
Title : Raquela: A Woman of Israel
Author: Gruber, Ruth
Publisher: Open Road Media
Publication Date: 2010
ISBN: 9781453206102
About the Author
Ruth Gruber (1911–2016) was an award-winning Jewish American journalist, photographer, and humanitarian. Born in Brooklyn in 1911, she was the author of nineteen books, including the National Jewish Book Award–winning biography Raquela (1978). She also wrote several memoirs documenting her astonishing experiences, among them Ahead of Time (1991), Inside of Time (2002), and Haven (1983), which documents her role in the rescue of one thousand refugees from Europe and their safe transport to America. Gruber passed away in 2016 at the age of 105.
Reviews
What other people are saying about Raquela: A Woman of Israel.