Ahead of Time: My Early Years as a Foreign Correspondent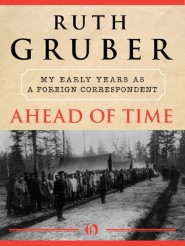 The early life and trailblazing career of one of the twentieth century's most remarkable female journalists

In this fascinating memoir, Ruth Gruber recalls her first twenty-five years, from her youth in Brooklyn to her astonishing academic accomplishments and groundbreaking journalistic career. She shares her experiences entering New York University at fifteen and just five years later becoming the world's youngest person to earn a PhD. She recounts her time in Cologne, Germany, studying during Hitler's rise to power, and her adventures in Europe and the Arctic as a reporter for the New York Herald Tribune.

Spirited and compelling, Ahead of Time is a striking account of the early years of a woman at the center of the twentieth century's turning points.
Praise for Ahead of Time
"Ruth Gruber is an adventure in herself." —New York Herald Tribune
"You couldn't invent Ruth Gruber . . . not even in a movie." —Richard Holbrooke, Special Envoy to Afghanistan and Pakistan
Product Details
Title : Ahead of Time: My Early Years as a Foreign Correspondent
Author: Gruber, Ruth
Publisher: Open Road Media
Publication Date: 2010
ISBN: 9781453203149
About the Author
Ruth Gruber (1911–2016) was an award-winning Jewish American journalist, photographer, and humanitarian. Born in Brooklyn in 1911, she was the author of nineteen books, including the National Jewish Book Award–winning biography Raquela (1978). She also wrote several memoirs documenting her astonishing experiences, among them Ahead of Time (1991), Inside of Time (2002), and Haven (1983), which documents her role in the rescue of one thousand refugees from Europe and their safe transport to America. Gruber passed away in 2016 at the age of 105.
Reviews
What other people are saying about Ahead of Time: My Early Years as a Foreign Correspondent.