M.C. Higgins, the Great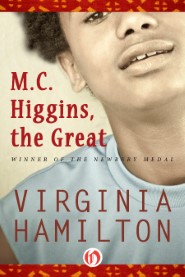 Open Road Media Teen & Tween
, 2011
Hamilton's classic coming-of-age tale: The National Book Award– and Newbery Award–winning novel about a young man who must choose between supporting his tight-knit family and pursuing his own dreams
Mayo Cornelius Higgins perches on top of a homemade forty-foot tower, considering two destinies. Behind him is his family's beloved house at the foot of a mountain that strip mining has reduced to loose rubble. In front of him, the beautiful Ohio River Valley and the great world beyond.
As M.C. weighs whether to stay with the family and home he loves or set off into the world on his own, there appear on the horizon two strangers who will make his decision all the more difficult.
Praise for M.C. Higgins, the Great
"This is one of those rare books which draws the reader in with the first paragraph and keeps him or her turning the pages until the end." —Publishers Weekly
Product Details
Title : M.C. Higgins, the Great
Author: Hamilton, Virginia
Publisher: Open Road Media Teen & Tween
Publication Date: 2011
ISBN: 9781453213889
About the Author
Virginia Hamilton (1934–2002) was the author of over forty books for children, young adults, and their older allies. Throughout a career that spanned four decades, Hamilton earned numerous accolades for her work, including nearly every major award available to writers of youth literature. In 1974, M.C. Higgins, the Great earned Hamilton the National Book Award, the Newbery Medal (which she was the first African-American author to receive), and the Boston Globe–Horn Book Award, three of the field's most prestigious awards. She received the Hans Christian Andersen Award, the highest international recognition bestowed on a writer of books for young readers, in 1992, and in 1995 became the first children's book author to receive a MacArthur Fellowship, or "Genius Award." She was also the recipient of the Coretta Scott King Award.
Reviews
What other people are saying about M.C. Higgins, the Great.