My Kitchen Wars: A Memoir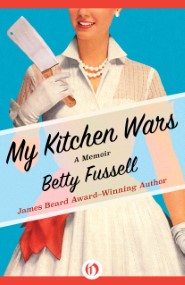 A fierce and funny memoir of kitchen and bedroom from James Beard Award winner Betty Fussell

A survivor of the domestic revolutions that turned American television sets from Leave It to Beaver to The Mary Tyler Moore Show to Julia Child's The French Chef, food historian and journalist Betty Fussell has spotlighted the changes in American culture through food over the last half century in nearly a dozen books.

In this witty and candid autobiographical mock epic, Fussell survives a motherless household during the Great Depression, gets married to the well-known writer and war historian Paul Fussell after World War II, goes through a divorce, and finally escapes to New York City in her mid-fifties, batterie de cuisine intact.

My Kitchen Wars is a revelation of the author's lifelong love affair with food—cooking it, eating it, and sharing it—no matter where or with whom she finds herself. From Princeton to Heidelberg and from London to Provence, Fussell ladles out food, sex, and travel with her wooden spoon, welcoming all who come to the table.
Product Details
Title : My Kitchen Wars: A Memoir
Author: Fussell, Betty
Publisher: Open Road Media
Publication Date: 2015
ISBN: 9781453218433
About the Author
Betty Fussell (b. 1927) is an accomplished American writer whose essays on food, art, and travel have appeared in the New York Times, the New Yorker, Vogue, Food & Wine, Gastronomica, and more. She is the author of eleven books, including The Story of Corn and Raising Steaks. Her memoir My Kitchen Wars has been performed in New York and Hollywood as a one-woman show.
Reviews
What other people are saying about My Kitchen Wars: A Memoir.