Canal House Cooking Volume N° 6: The Grocery Store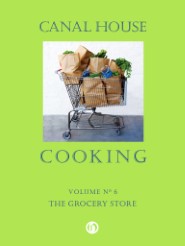 CANAL HOUSE COOKING, VOLUME N° 6, THE GROCERY STORE is a collection of our favorite recipes, the ones we cook for ourselves, our friends, and our families, using the best that grocery stores have to offer. It is filled with recipes that will make you want to run straight to the grocery store to stock up and start cooking.

We are home cooks writing about home cooking for other home cooks. Our recipes are easy to prepare and completely doable for the novice and experienced cook alike. Good cooking relies on good shopping, so we buy smoked fish to make a delicious creamy stew, and plump organic chickens to roast right on the oven rack over potatoes and vegetables. Bunches of fat local asparagus go into our shopping cart—we cook them simply and bathe them in a luscious lemon-butter sauce. We choose hearty escarole and tender young spinach and stock up on bags of frozen peas and fava beans to use in so many ways. We buy succulent rhubarb for an early spring tonic or for an Easter dessert, roasted and spooned over crisp meringues.

Canal House Cooking, Volume N° 6, The Grocery Store, is the sixth book of our award-winning series of seasonal recipes. We publish three volumes per year: Summer, Fall & Holiday, and Winter & Spring, each filled with delicious recipes for you from us. Cook all year long with Canal House Cooking!

95 delicious triple-tested recipes

Praise for Canal House Cooking Volume N° 6
"We were struck by its approachability: an apple pie with an eroding crust, basking in mellow, natural light; red peppers blackening on a flecked and splattered apartmentsized stove top."—James Beard Foundation's Delights & Prejudices

". . . the recipes are deceptively sophisticated. With its modest tone and relaxed methods it is, at first glance, a book of straightforward recipes. However, as you look more closely, they are easy to follow as a result of being stripped bare of unnecessary fluff while leaving room for interpretation and instinct."—Grant Achatz

"Christopher Hirsheimer and Melissa Hamilton grabbed the culinary world by the Brussels sprouts and have refused to let go.The essays reach beyond insightful to intimate. And the images and illustrations are hunger inducing."—Scott Edwards, Bucks Life Magazine

"There is no more inspiring guide than Canal House Cooking. The evocative writing, photgraphs and drawings are so charming, the book will work for armchair cooks as well."—Sally Schneider, theimprovisedlife.com

Product Details
Title : Canal House Cooking Volume N° 6: The Grocery Store
Authors:

Hirsheimer, Christopher
Hamilton, Melissa

Publisher: Canal House
Publication Date: 2011
ISBN: 9781453219423
About the Authors
Christopher Hirsheimer served as food and design editor for Metropolitan Home magazine, and was one of the founders of Saveur magazine, where she was executive editor. She is a writer and a photographer.

Melissa Hamilton cofounded the restaurant Hamilton's Grill Room in Lambertville, New Jersey, where she served as executive chef. She worked at Martha Stewart Living, Cook's Illustrated, and at Saveur as the food editor.

Reviews
What other people are saying about Canal House Cooking Volume N° 6: The Grocery Store.