On the Waterfront: A Novel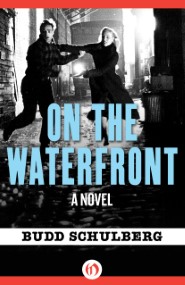 Schulberg's acclaimed and bestselling novel, based on a classic of American cinema

In 1955, Budd Schulberg adapted his Academy Award–winning screenplay into an exhilarating novel. Suspenseful and emotional, the novel presents a more complex—and perhaps bleaker—portrait of ex-boxer Terry Malloy's corrupt and stunted world on the docks of Hoboken. Narrated by Father Pete Barry, the novel shifts focus to the courageous priest who stands up to the Mob, as well as his own church, in order to redeem the souls of his hardscrabble and unloved constituents.
On the Waterfront is a potent retelling of an iconic American story that stands apart as an unforgettable vision of crime, politics, and class in the twentieth century.
This ebook features an illustrated biography of Budd Schulberg including rare images and never-before-seen documents from the author's estate.
Praise for On the Waterfront
"Not only does [the novel] have an ending different from its celluloid predecessor's; it also has a different focus and far more psychological depth and reportorial range." —The New York Times
Product Details
Title : On the Waterfront: A Novel
Author: Schulberg, Budd
Publisher: Open Road Media
Publication Date: 2012
ISBN: 9781453261798
About the Author
Budd Schulberg (1914–2009) was a screenwriter, novelist, and journalist who is best remembered for the classic novels What Makes Sammy Run?, The Harder They Fall, and the story On the Waterfront, which he adapted as a novel, play, and an Academy Award–winning film script. Born in New York City, Schulberg grew up in Hollywood, where his father, B. P. Schulberg, was head of production at Paramount, among other studios. Throughout his career, Schulberg worked as a journalist and essayist, often writing about boxing, a lifelong passion. Many of his writings on the sport are collected in Sparring with Hemingway (1995). Other highlights from Schulberg's nonfiction career include Moving Pictures (1981), an account of his upbringing in Hollywood, and Writers in America (1973), a glimpse of some of the famous novelists he met early in his career. He died in 2009. 
Reviews
What other people are saying about On the Waterfront: A Novel.