The Big Wave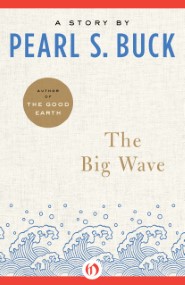 Open Road Media Teen & Tween
, 2012
The author of The Good Earth tells a poignant story about two boys whose friendship and courage help them survive an overwhelming tragedy

On a mountainside in Japan, two boys enjoy a humble life governed by age-old customs. Jiya belongs to a family of fishermen; his best friend, Kino, farms rice. But when a neighboring volcano erupts and a tidal wave swallows their village—including Jiya's family—life as they know it is changed forever. The orphaned Jiya must learn to come to terms with his grief. Now facing a profoundly different life than the one he'd always taken for granted, he must decide on a new way forward.
Written with graceful simplicity, The Big Wave won the Children's Book Award of the Child Study Association of America when it was first released.
This ebook features an illustrated biography of Pearl S. Buck including rare images from the author's estate.
Praise for The Big Wave
"The author's famous story of a Japanese boy who must face life after escaping the tidal wave destruction of his family and village." —Booklist

Product Details
Title : The Big Wave
Author: Buck, Pearl S.
Publisher: Open Road Media Teen & Tween
Publication Date: 2012
ISBN: 9781453263570
About the Author
Pearl S. Buck (1892–1973) was a bestselling and Nobel Prize–winning author. Her classic novel The Good Earth (1931) was awarded a Pulitzer Prize and William Dean Howells Medal. Born in Hillsboro, West Virginia, Buck was the daughter of missionaries and spent much of the first half of her life in China, where many of her books are set. In 1934, civil unrest in China forced Buck back to the United States. Throughout her life she worked in support of civil and women's rights, and established Welcome House, the first international, interracial adoption agency. In addition to her highly acclaimed novels, Buck wrote two memoirs and biographies of both of her parents. For her body of work, Buck received the Nobel Prize for Literature in 1938, the first American woman to have done so. She died in Vermont. 
Reviews
What other people are saying about The Big Wave.