Rich Man, Poor Man: A Novel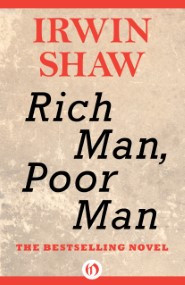 This bestselling novel portrays the clash between two brothers amid the turmoil of postwar America. It's "a book you can't put down" (The New York Times).

Siblings Rudy, Tom, and Gretchen Jordache grow up in a small town on the Hudson River. They're in their teens in the 1940s, too young to go to war but marked by it nevertheless. Their father is the local baker, and nothing suggests they will live storied lives. Yet, in this sprawling saga, each member of the family pushes against the grain of history and confronts the perils and pleasures of a world devastated by conflict and transformed by American commerce and culture.

A memorable novel by one of America's greatest twentieth-century authors, Rich Man, Poor Man offers a gripping ride through America between the Second World War and Vietnam. It was made into one of the first primetime TV mini-series, and starred Nick Nolte, Peter Strauss, and Susan Blakely.

This ebook features an illustrated biography of Irwin Shaw including rare images and never-before-seen documents from the author's estate.
Reviews
What other people are saying about Rich Man, Poor Man: A Novel.