Parable of the Talents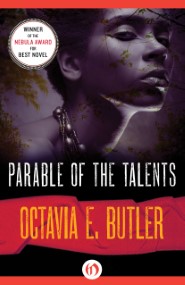 Open Road Media Sci-Fi & Fantasy
, 2012
Winner of the Nebula Award for Best Novel: The powerful and compelling sequel to the dystopian classic Parable of the Sower

Lauren Olamina was only eighteen when her family was killed, and anarchy encroached on her Southern California home. She fled the war zone for the hope of quiet and safety in the north. There she founded Acorn, a peaceful community based on a religion of her creation, called Earthseed, whose central tenet is that God is change. Five years later, Lauren has married a doctor and given birth to a daughter. Acorn is beginning to thrive. But outside the tranquil group's walls, America is changing for the worse.
 
Presidential candidate Andrew Steele Jarret wins national fame by preaching a return to the values of the American golden age. To his marauding followers, who are identified by their crosses and black robes, this is a call to arms to end religious tolerance and racial equality—a brutal doctrine they enforce by machine gun. And as this band of violent extremists sets its deadly sights on Earthseed, Acorn is plunged into a harrowing fight for its very survival.
 
Taking its place alongside Margaret Atwood's The Handmaid's Tale, Butler's eerily prophetic novel offers a terrifying vision of our potential future, but also one of hope.
 
This ebook features an illustrated biography of Octavia E. Butler including rare images from the author's estate.
 
Praise for Parable of the Talents
"One of the finest voices in fiction—period. . . . Butler casts an unflinching eye on racism, sexism, poverty and ignorance and lets the reader see the terror and beauty of human nature." —The Washington Post Book World
"Splendid . . . provocative . . . a parable that deserves to be pondered." —The Plain Dealer
"Enthralling . . . compelling and truly original." —The Denver Post
Product Details
Title : Parable of the Talents
Author: Butler, Octavia E.
Publisher: Open Road Media Sci-Fi & Fantasy
Publication Date: 2012
ISBN: 9781453263624
About the Author
Octavia E. Butler (1947–2006) was a bestselling and award-winning author, considered one of the best science fiction writers of her generation. She received both the Hugo and Nebula awards, and in 1995 became the first author of science fiction to receive a MacArthur Fellowship. She was also awarded the prestigious PEN Lifetime Achievement Award in 2000. Her first novel, Patternmaster (1976), was praised both for its imaginative vision and for Butler's powerful prose, and spawned four prequels, beginning with Mind of My Mind (1977) and finishing with Clay's Ark (1984).
Although the Patternist series established Butler among the science fiction elite, it was Kindred (1979), a story of a black woman who travels back in time to the antebellum South, that brought her mainstream success. In 1985, Butler won Nebula and Hugo awards for the novella "Bloodchild," and in 1987 she published Dawn, the first novel of the Xenogenesis trilogy, about a race of aliens who visit earth to save humanity from itself. Fledgling (2005) was Butler's final novel. She died at her home in 2006.     
Reviews
What other people are saying about Parable of the Talents.